【July, 2019】Our Interviewed by South China Morning Post
Unnerved by US-China trade war and deterred by property prices at home, Hong Kong investors are turning to Japan for real estate
Local investors join others from China in flocking to Japan to buy property, particularly hotels and private lodgings
Tokyo and Osaka are the main markets of choice, with not even a tough law on home sharing introduced last year, turning off buyers
Frankie Leung Kai-ha has bought three properties in Japan over the past three years. The latest one, bought just last month, is a four-storey building that he plans to renovate into an Airbnb private lodging.
The three investments cost about the same as one medium-sized flat in the expensive urban centre of Hong Kong, where Leung lives. His latest deal also came amid the increasingly volatile trade relations between China and the United States, which threaten to undermine the economics of both countries.
"The trade war is one of the major reasons I've invested more in Japan. I'm quite concerned about the impact," said the 36-year-old, who is the co-founder of a bakery in Macau. "I think it's safer to put some money in Japanese yen in case anything happens."
Many investors see Japan as a safe haven against the risks of the US-China trade war, agents said. They added that buyers also held a rosy outlook of the country's economic and tourism development, with the Tokyo Olympics next year and a plan to develop an integrated casino resort in Osaka, one of Japan's largest metropolitan areas and the host of the 2025 World Expo.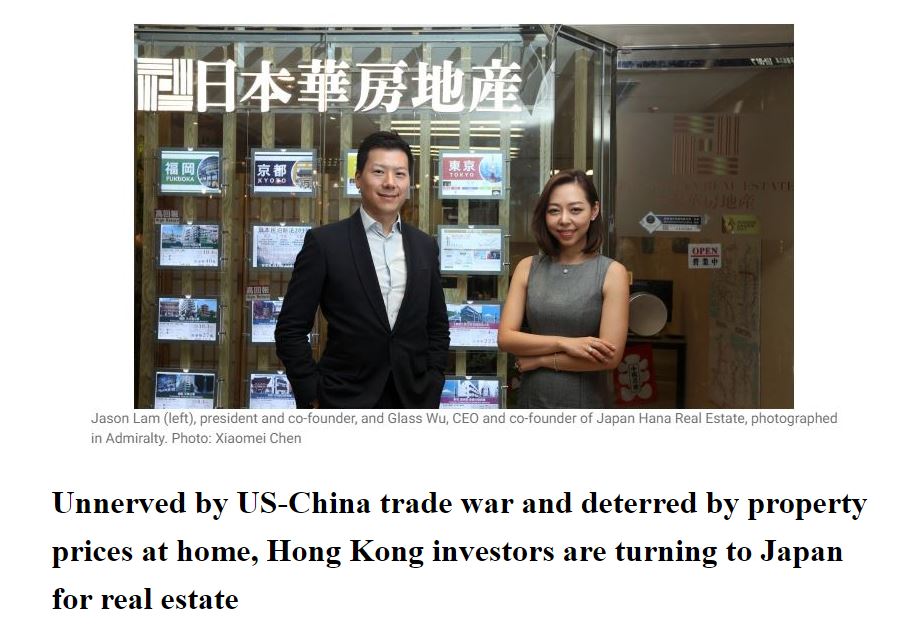 Generally, Tokyo and Osaka have benefited the most from the increasing investment, according to agents. However, Osaka had taken over Tokyo in investments in private lodgings, said Glass Wu, CEO and co-founder of Japan Hana.
Wu said that was because the capital city's property market had become too hot for some buyers, while Osaka remained cheaper and had fewer restrictions in managing private lodgings under the minpaku law.
However, the wait is likely to last, as the city's shortage of land may still keep the market going. Two major measures to increase land supply, including 1,000 hectares of artificial islands off Lantau Island and a plan for the government to co-develop farmland with private developers who own the sites, have recently met with delays due to the political turmoil over the extradition bill.
The two measures were expected to see progress last month, but amid numerous protests, marches and non-cooperative movements, the government has pushed the plans back with an uncertain timetable for the projects.
Developers had earlier raised fears that the government might not be able to roll out enough sites for sale next year.
SCMP POST – Unnerved by US-China trade war and deterred by property prices at home, Hong Kong investors are turning to Japan for real estate