【Interview】 Our CEO interviewed by Squarefoot Magazine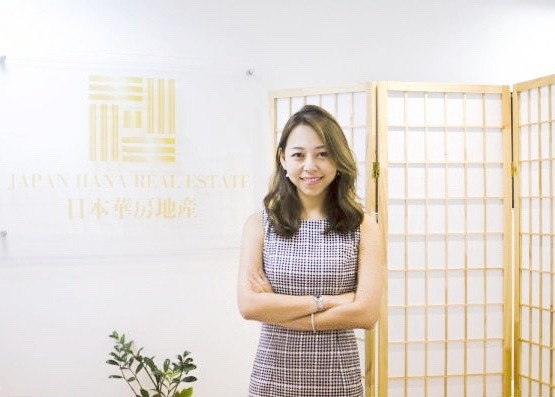 Japan Hana Real Estate was founded in 2015 under the direction of Japanese real estate expert, Glass Wu. We talk about topics ranging from her business to her background, and how she came to be known as the go-to girl in Hong Kong for Japanese investment properties.
"I started my career in real estate in Hong Kong before moving to Tokyo," Wu begins. "I spent 10 years living and working in Japan in various sectors, including real estate, which gave me first-hand knowledge of the property and rental markets in various parts of Japan." Given her experience in both real estate and living in Japan, Glass decided to make the move and set up business in her hometown of Hong Kong. "Working in the real estate market, I built up a large network in the industry ranging from developers to property management companies. I kept getting asked by friends in Hong Kong and across Asia to help them with properties in Japan, whether they were looking to move to Japan or were looking for investments. That's when Japan Hana came into being."

On the ground in Hong Kong, Japan Hana offers additional guidance for clients in the way of weekly seminars. Usually held in small groups, the talks cover topics such as how to buy and the buying process, as well as specialized topics like high-yielding properties. "Unlike some of the other agencies out there, what sets us apart is that we are Japan specialists, we only focus on Japan and are able to give clients more in-depth advice from a local's perspective."With Wu's experience living and working in Japan and native fluency in the language, I learn, this wealth of information helps to set Japan Hana apart from other agencies. "Having lived and worked in Japan, I can provide insight into different neighborhoods, how convenient they are, how the local rental market is and how they are viewed by the local Japanese. We have helped clients with sourcing of furniture and have helped clients set up companies in Japan."
Not only does the company strive to provide uniquely professional and local expertise, but it also covers a large option on property types that are attractive to lots of different kinds of investors. "In terms of types, we not only cover residential, but also commercial, retail shops, hotels, ryokans and whole buildings. We have seen an influx of clients buying for Airbnb, which has changed the investment landscape and we have seen more clients that want to buy whole buildings, given they can cost the same as just one apartment in Hong Kong," Wu notes. "We cover all cities in Japan. Tokyo and Osaka have been the most popular among-st Hongkongers but quickly becoming popular are smaller cities like Fukuoka and Kyoto, which can provide high rental yields."
Japan offers Hongkongers a great opportunity right now for many reasons, Wu explains. "Investment into Japan real estate from Hong Kong has been going from strength to strength. Japan property remains at very affordable levels. You can own an apartment in Fukuoka for just HK$500,000 and you can buy a whole building in Tokyo for the price of a two-bedroom apartment in Hong Kong."
The country's upcoming Tokyo Olympics in 2020 and casino resorts expected in 2022 will also greatly benefit the economy and attract investment. In addition, not only has the Japanese Yen seen change over previous years making things 30-40 percent cheaper but Japanese Prime Minister Abe's economic stimulus measures have sparked the country's economy, igniting the country's real estate market.