Overview
Updated On:
March 27, 2023
Description
【Tokyo】Takanawa City Tower – Luxury 3 Bedroom Penthouse Apartment

Key Highlights of Takanawa City Tower
Takanawa City Tower is an ultra-high-rise luxury apartment building situated in Takanawa, an upscale and relaxed neighborhood in Tokyo's Minato Ward.
The 35-floor building features floor-to-ceiling glass windows throughout and has great views of Tokyo's cityscape.
It has great access to 4 train stations – located a 6 mins walk to Shirogane Takanawa Station and 8 mins walk to Takanawadai Station.
Located across from Meiji Gakuin University, it is 1 mins walk to convenience stores and a 5 mins walk to the nearest supermarket for convenient living.
Premium facilities include 24 hour concierge service, a theatre room, sky lounge, fitness room and many others.
Exceptional Apartment on 34th Floor

Located on 34th floor out of 35 floors, the apartment offers great views of Tokyo's cityscape.
The spacious 3 bedroom apartment boasts an exceptionally large living room with 64 sqm of space.
Modern top-of-the line kitchen with appliances that meet the needs of global clients, from dual ovens to double refrigerators.
Elegant 2 bathrooms and jacuzzi bathtub with stone and marble tiling.
Modern interior decoration throughout
Takanawa
Takanawa is an upscale residential area situated in Minato-ku, a favorite for expatriates and the well-heeled Japanese.
The area is home to many universities including Meiji Gakuin and Keio University as well as many famous schools.
Takanawa area houses one of Tokyo's major railway stations, JR Shinagawa Station, where you can take the Shinkansen, JR Line and Keikyu Main Line, making travel to western parts of Japan such as Kyoto and Osaka is very convenient.
The local neighborhood houses a variety of shops and eateries for convenient living.

Floorplan: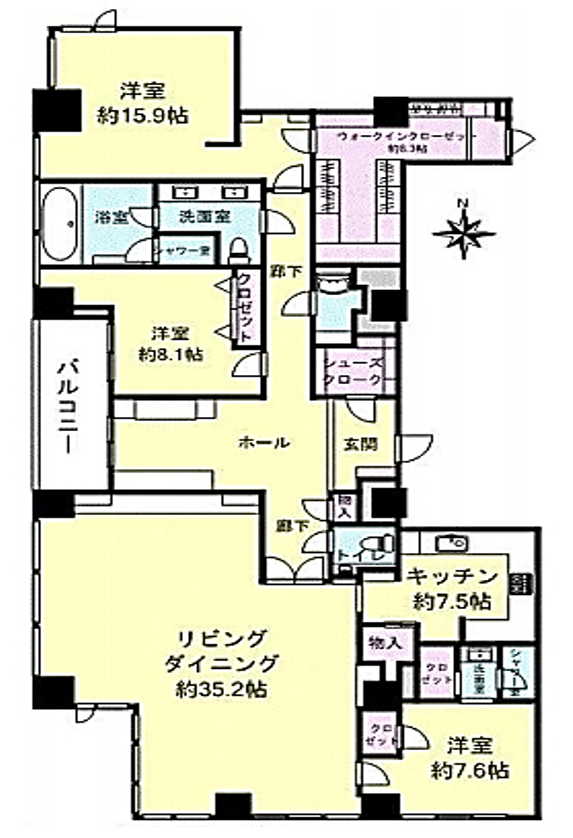 Key Details:
Unit Type: Apartment (3 Bedrooms, 2 Bathrooms)
Unit Total Area: 213.95 sqm (2,303 sqft)
Title: Freehold
Floor: 34th Floor (out of 35 Floors)
Car Park: Designated car parking space
Building Layout: 35-Storeys (2 basement), 365 residences
Completion: January 2004
Price: JPY500 million
Please contact us on 9265 1016 / 3689 2880 for more details.
Spacious Living Room 

This exceptionally large living room boasts 64 sqm of space and has hardwood floors and chic modern lighting.

The floor-to-ceiling glass windows, provide unmatched views of Tokyo city from the 34th floor.

Bedrooms
There are 3 spacious bedrooms, elegantly designed with durable hardwood floors and soft carpet







Spacious walk-in closet with built-in ceiling lighting


Bathroom
The bathrooms have elegant frameless glass walls and doors and elegant stone tiles throughout.





Kohler bathroom suite, enclosed bathroom with Washlet Toilet, Porro Spa Cabina cabinet system made in Italy.
Kitchen

Large system kitchen with stainless-steel cabinets and work spaces covered with elegant stone surfaces

The kitchens have been designed to meet the needs of global clients, with top-of-the-line appliances, from dual ovens to double refrigerators.
Facilities:
24 hour concierge
Sky Lounge
Guest Lounge
Fitness Room
Guest Room
Car park on the basement floor
Bicycle Parking Space
Resident Delivery Box
Main Entrance

Lobby

Fitness Room

Sky Lounge

Guest Lounge

Please contact us on 92651016 for more information.
Date of Publishing: 21 Sep 2022,  Property No.: #21442D
Purchasing properties situated outside Hong Kong is complicated and contains risk. You should review all relevant information and documents carefully before making a purchase decision. You should seek professional, independent and specific advice on any such investment decision and the types and amounts of taxes or levies that you may be liable to pay as foreign purchasers. The statements, information and descriptions contained herein are provided for information only and may be modified at any time and shall not constitute any part of an offer or a contract. No representation or warranty is made as to their accuracy, correctness or completeness and Japan Hana shall not have any liability or obligation with respect thereto. Any interested party should undertake their own inquiries as to the accuracy of the information. Japan Hana acts for both buyers and sellers. No employee of Japan Hana is authorised to make any representations or warranties in relation to this property or project. Our overseas property sales agents work exclusively in relation to properties outside Hong Kong and are not therefore licensed under the Estate Agents Ordinance to deal with Hong Kong properties. If there is any discrepancy with the English version, the English version shall prevail. #All timings are approximate. Distances are taken from www.google.com for reference only. Some images are computer generated, and so are for illustration purposes only. Exchange rates are for illustration purposes only.
#JapanHana #ジャパンハナ不動産 #日本華房地產
#日本物業 #日本樓盤 #日本房地產 #日本地產
#日本投資移民 #日本移民顧問 #移民日本
#日本開發項目 #日本酒店 #日本旅館 #日本民宿
#日本辦公室大樓 #日本土地 #日本公司收購
#東京物業 #東京新樓 #東京房地產
#大阪物業 #大阪新樓 #大阪房地產
#JapanProperty #JapanRealEstate #JapanNewDevelopment
#JapanImmigration #JapanAirbnb #JapanHotel #JapanRyokan
#JapanCommercialProperty #JapanOffice #JapanLand #JapanLogistic
#JapanDevelopmentProject #PropertyInvestment #JapanVisa
#SkiProperty #NisekoProperty #HakubaProperty
#TokyoProperty #OsakaProperty #KyotoProperty
#AirbnbProperty #HotelInvestmen
Address: City Tower Takanawa 1-23-23, Takanawa, Minato Ward, Tokyo
Country: Japan
Open In Google Maps
Property Id : 51935
Price: ¥ 500,000,000
Property Size: 214 m2
Rooms: 3
Bedrooms: 3
Bathrooms: 2
Car Park: 1
Other Features
Balcony
Car Park
Elevator