Overview
Updated On:
December 5, 2023
Description
【Hokkaido】Niseko Kyo – Luxury Ski-in Ski-out Onsen Condominium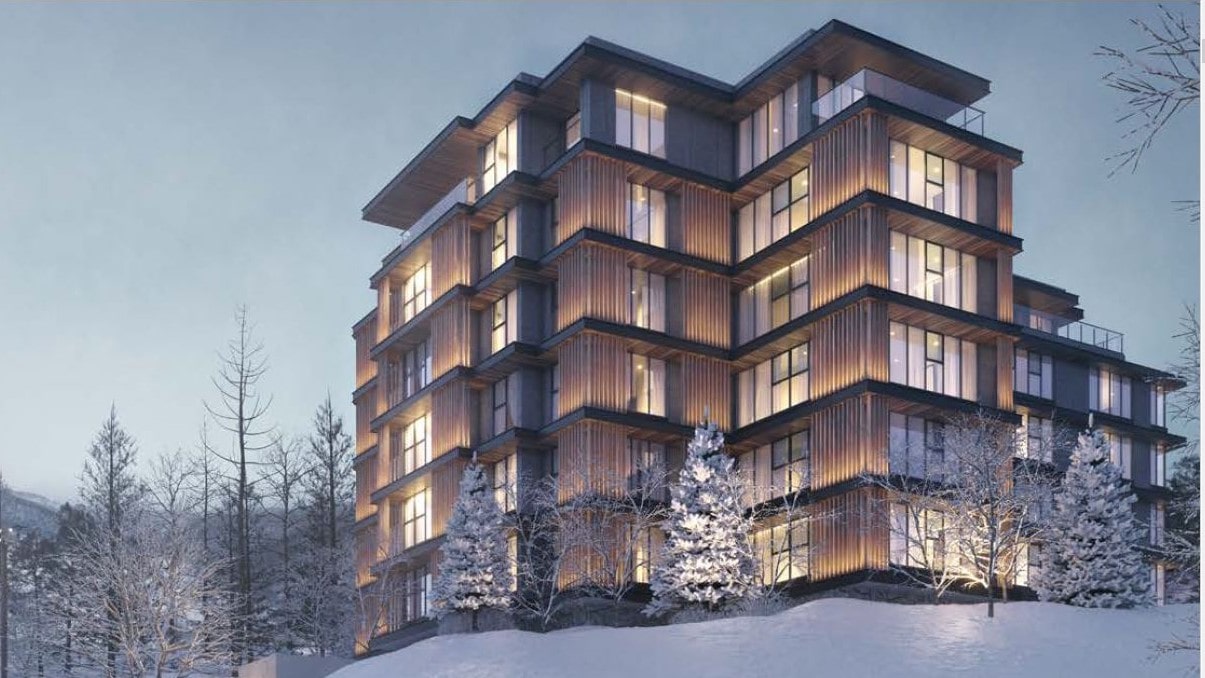 Nestled amidst a landscape of powdery white splendour, in the charming and vibrant village of Hirafu, Niseko Kyo is as alluring and regal as the iconic peak in which it overlooks.
This exclusive ski property with only 22 luxury residences is an oasis of tranquillity, where nature strolls hand in hand with the everyday joys of life. Every residence at the Niseko Kyo is a hallmark of sophistication with sweeping views of snow-covered hills during winter and equally breath-taking panoramas that change with each season.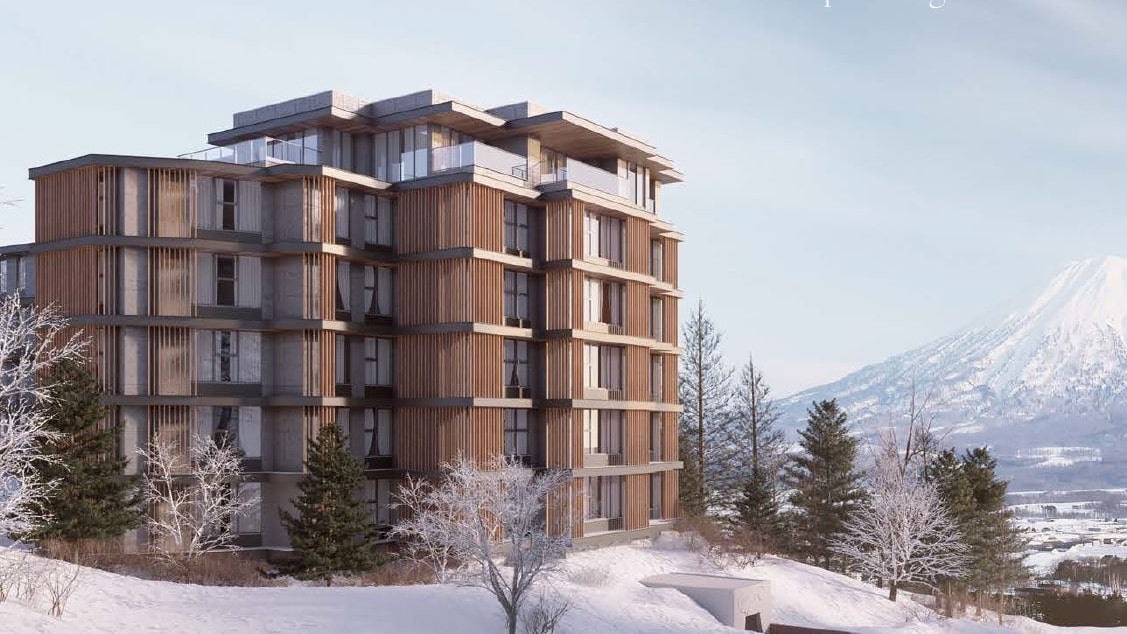 Ideally Located
Niseko Kyo – ideally located in the heart of Hirafu Village. Niseko Kyo overlooks Hirafu's sought-after Ace Family Run flanking Upper Hirafu Village with direct access to the Ace Family Lift, a true ski-in, ski-out property.
Hirafu Village is located between Niseko Village and Hanazono. The New Chitose Airport (Sapporo Airport) is the main gateway airport with train and private transfers available.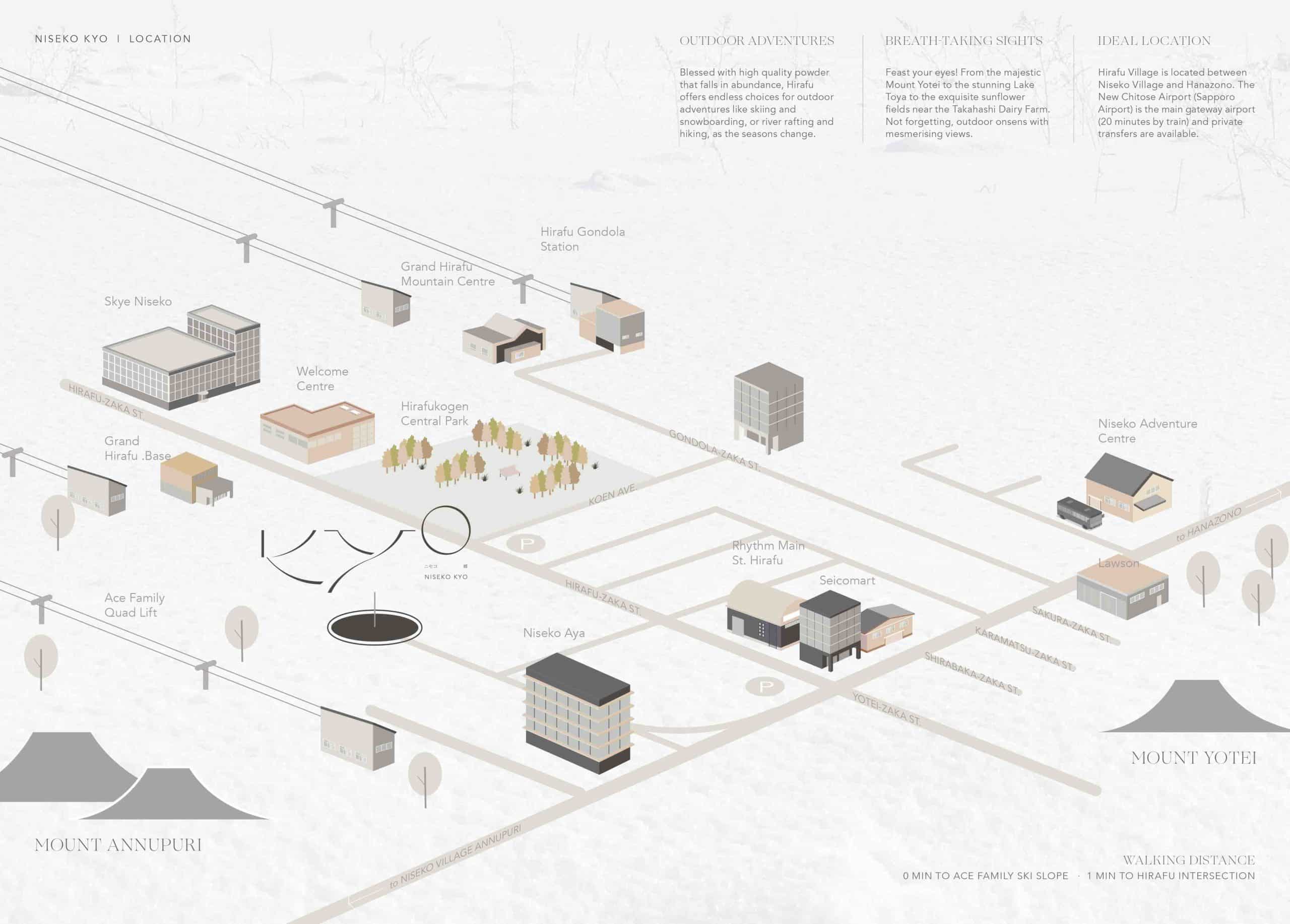 Exclusive Residences With Luxurious Amenities
The tranquil setting is equipped with 22 luxury residences with each having its own private natural onsen. Fully furnished and elegantly designed, the development has apartments ranging from 1 bedroom to 6 bedrooms. The exclusive 6 bedroom, dual-key, 300 sqm Penthouse unit offers amazing views of Mt Annupuri (ski resort) and Mt Yotei (volcano). All units come fully furnished with luxurious amenities.
The furniture that fills the space with effortless style is thoughtfully custom-made with designer kitchen appliances by Gaggenau and Liebherr, heated-flooring is a standard feature of each residence.
Penthouses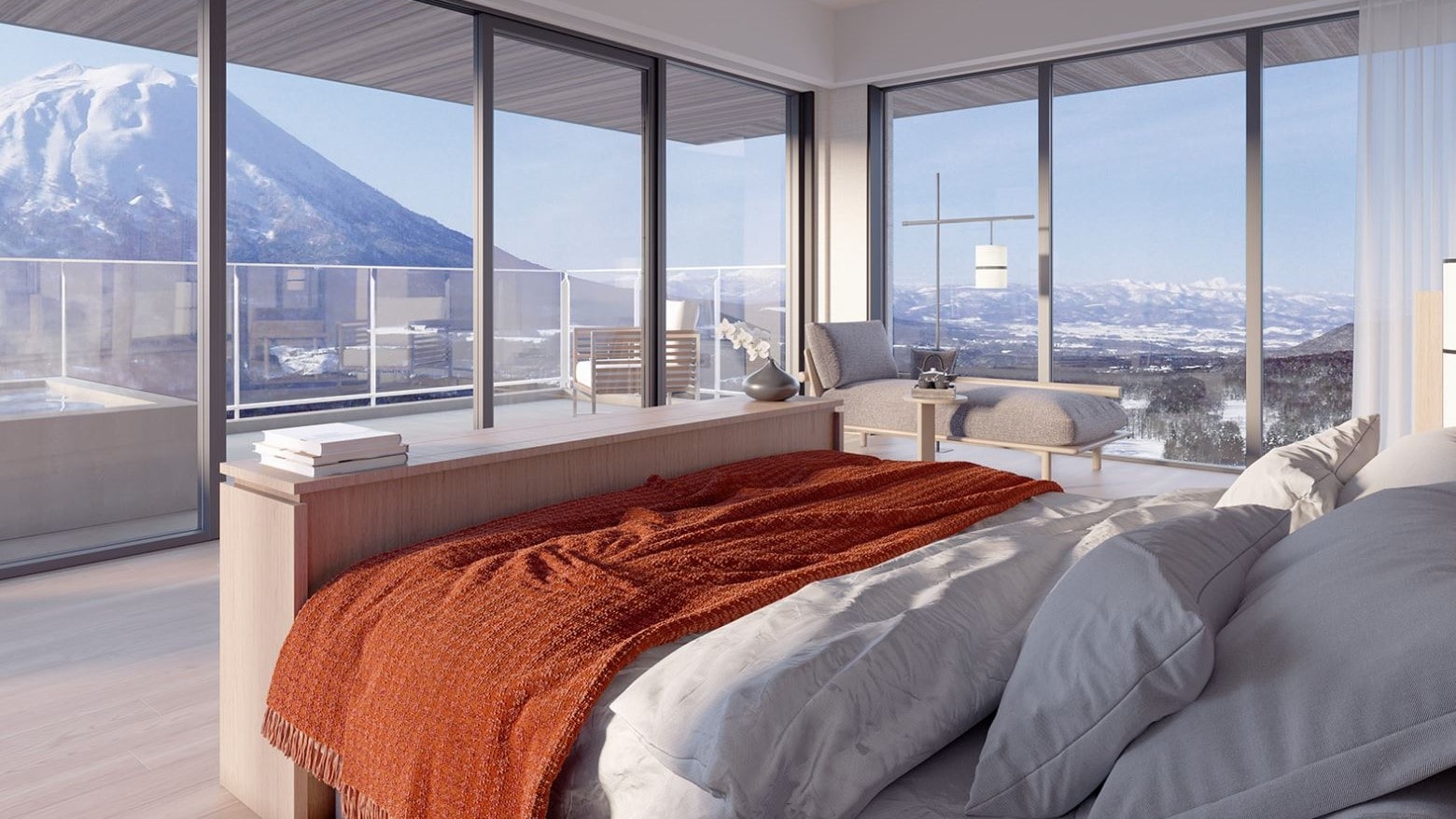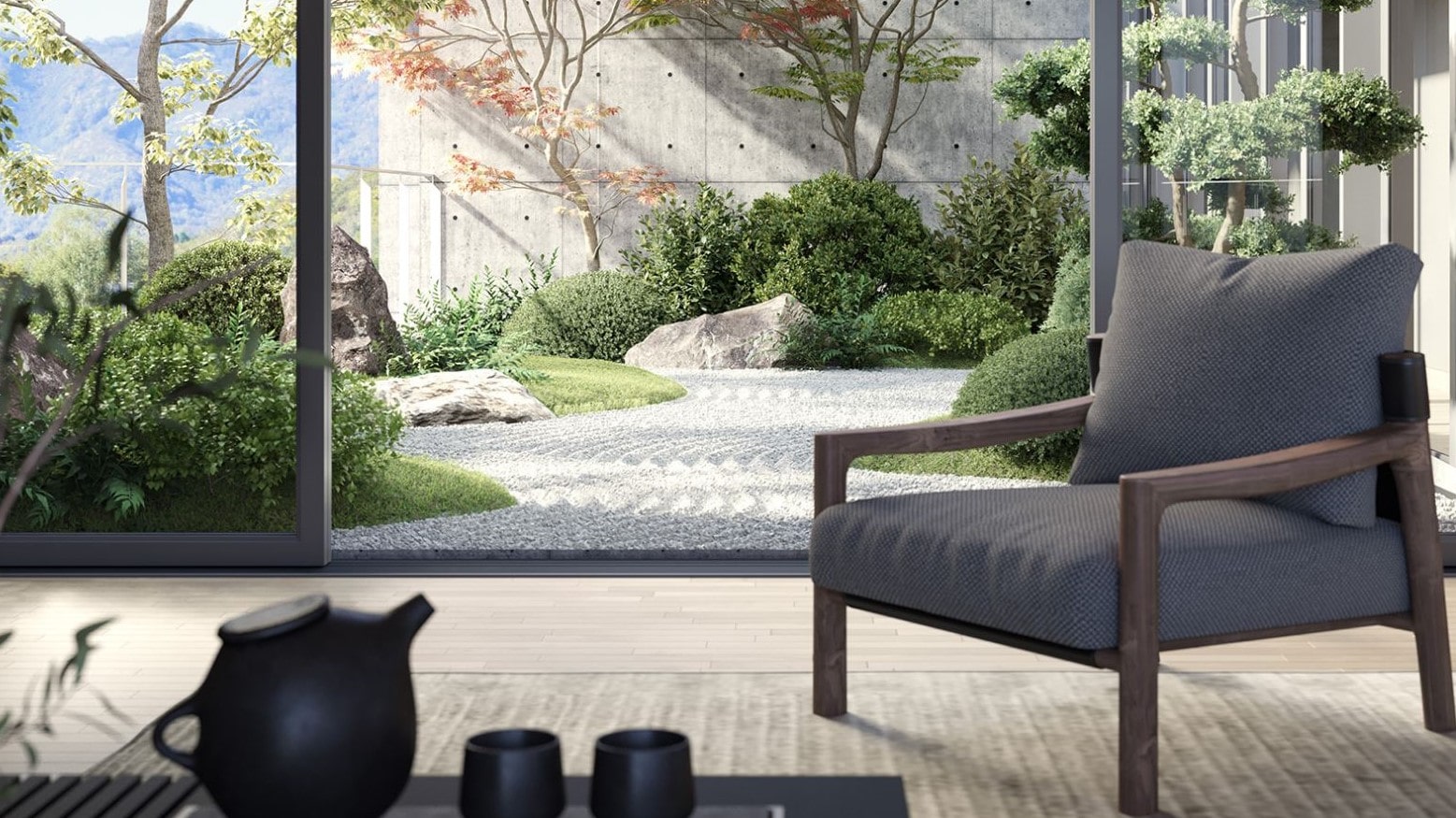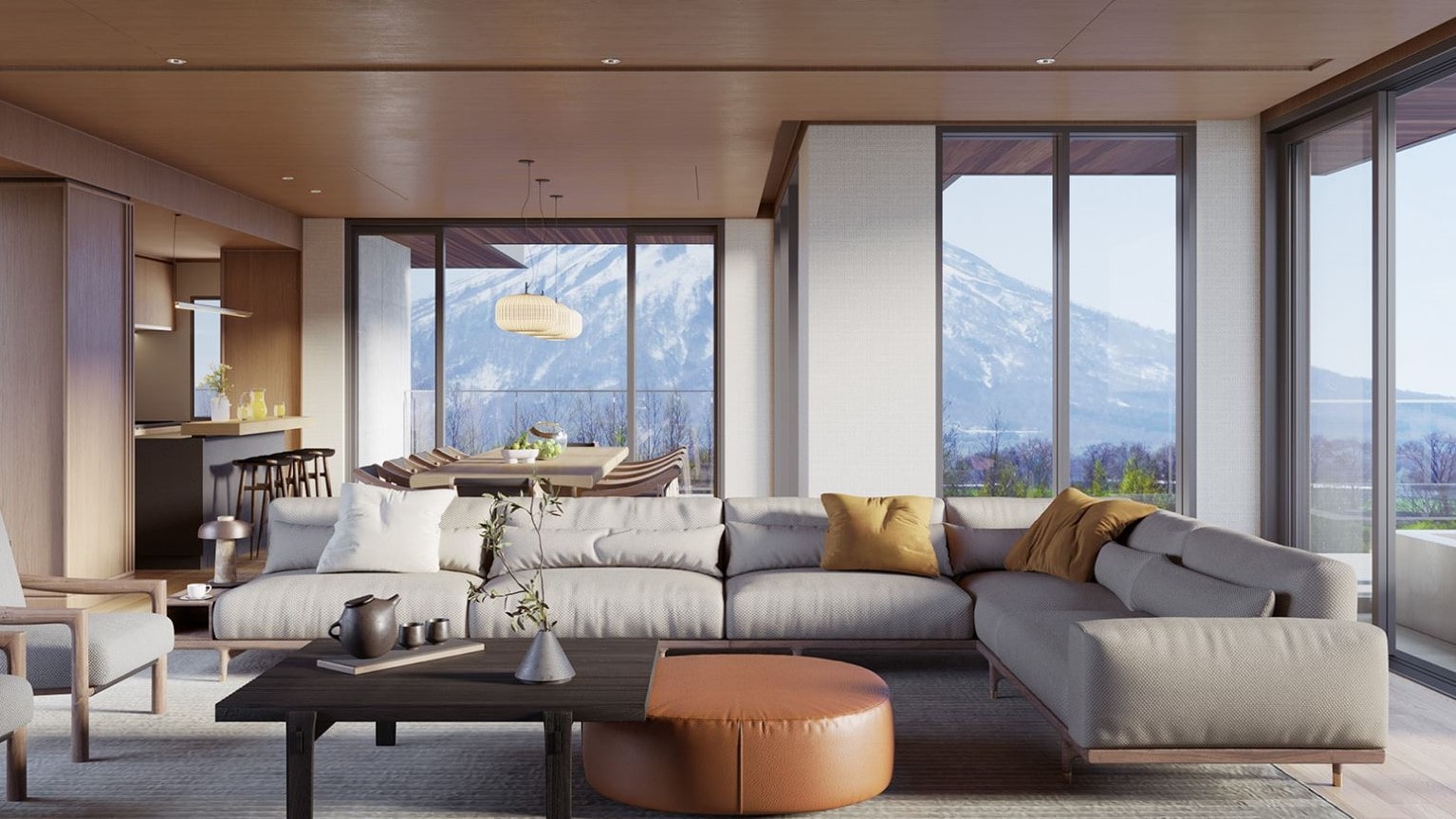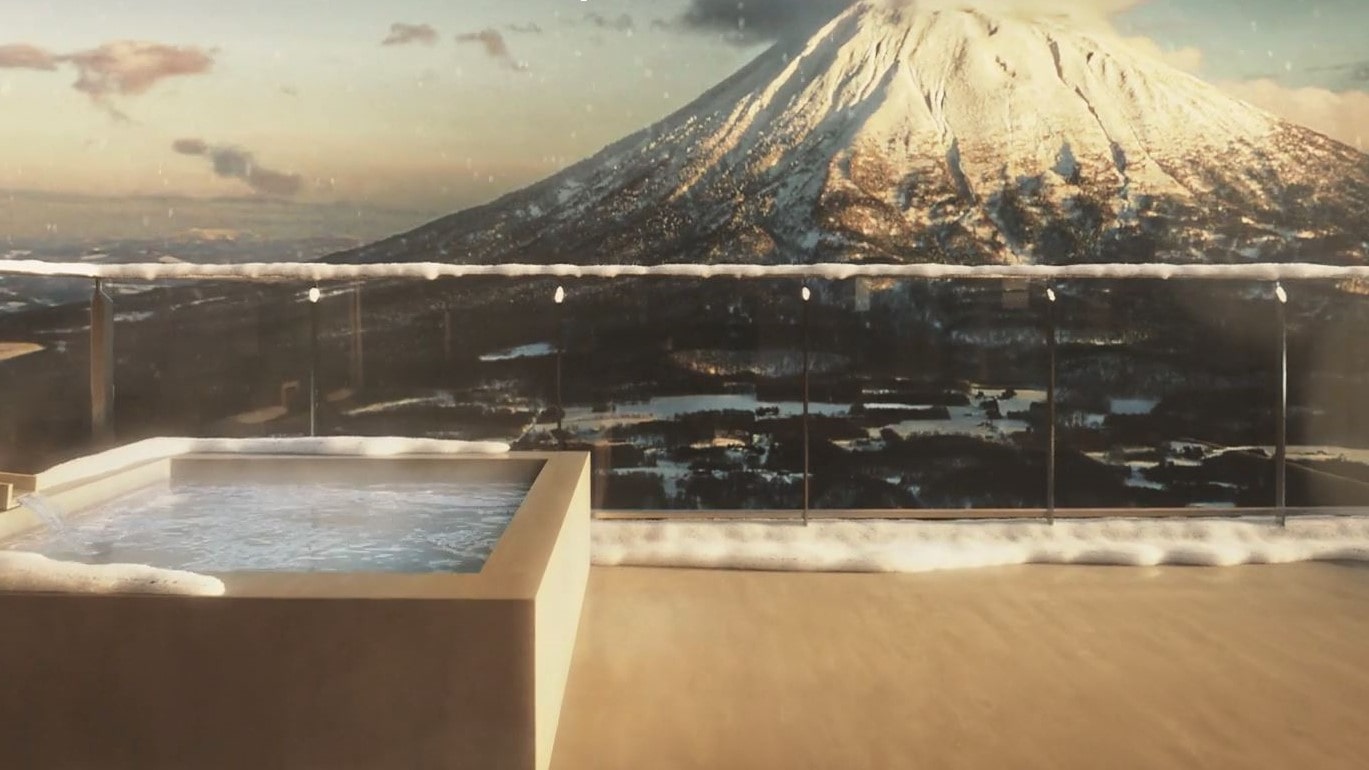 Residences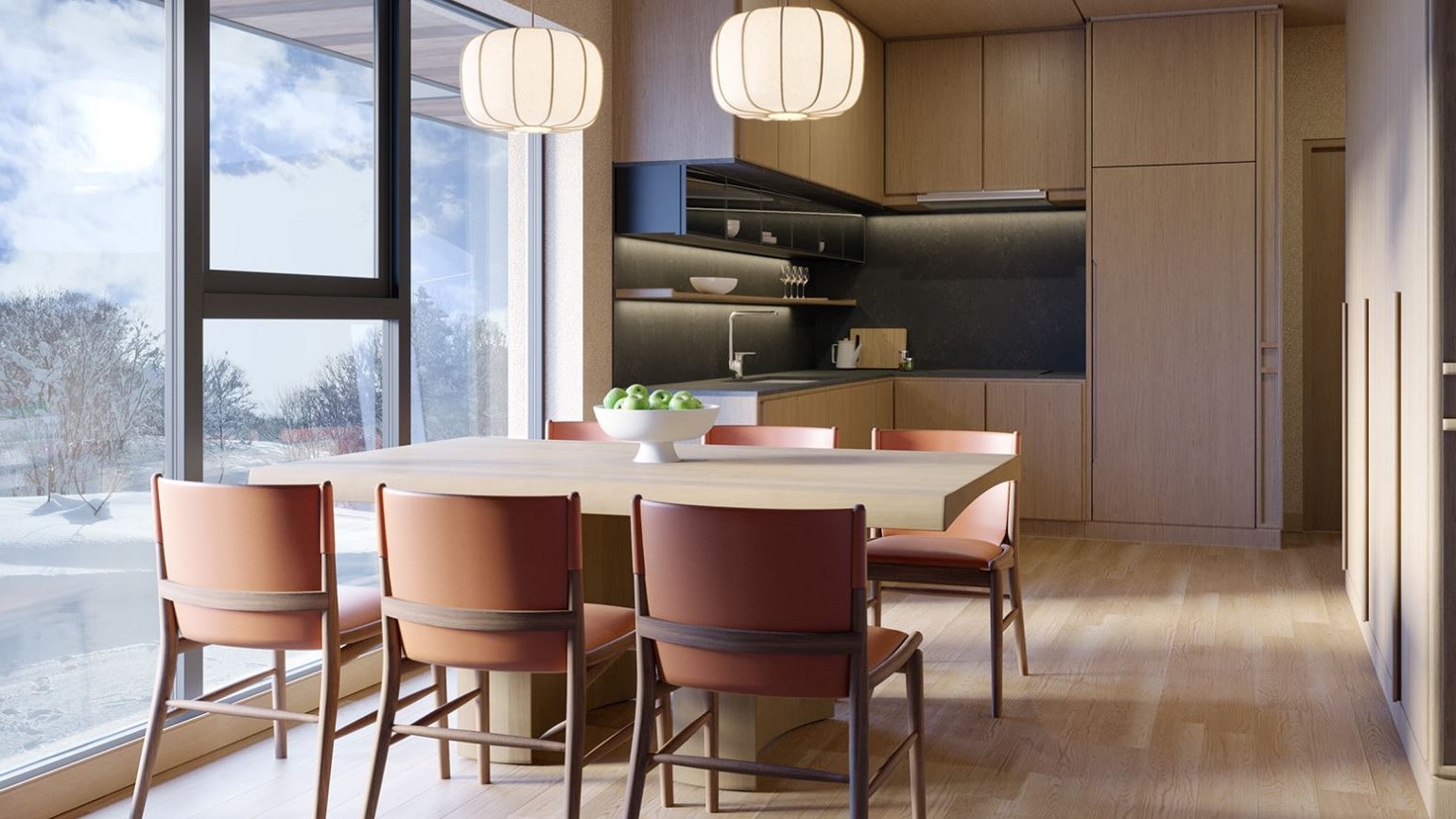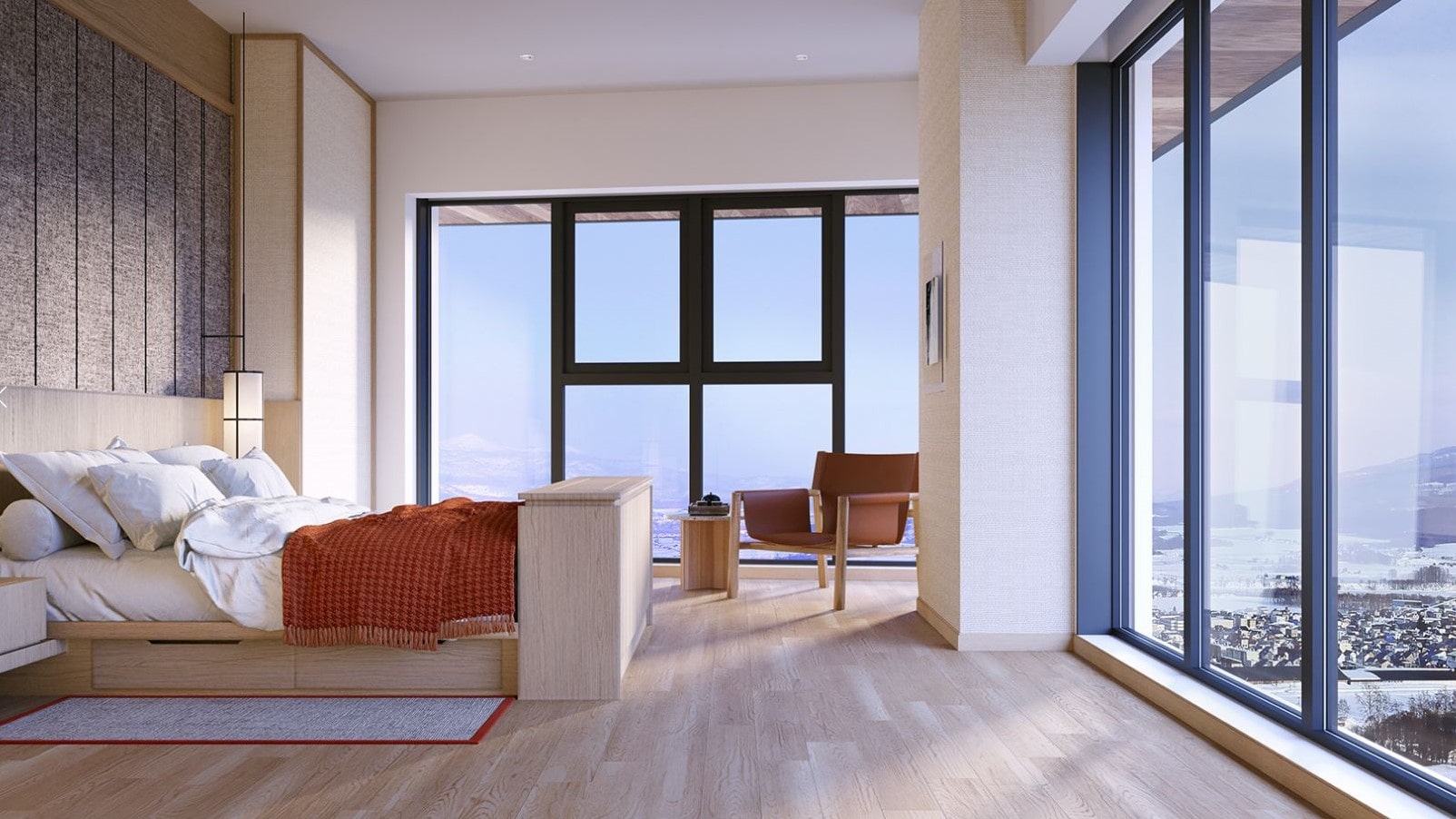 Residence Types:
Type A (3 bedrooms): 155.71m²
Type B (5 bedrooms): 217.29m²
Type C (2+1 bedrooms): 109.13m²
Type D (1+1 bedrooms): 117.96m²
Type E (2 bedrooms): 78.52m²
Type F(A) (3 bedrooms): 160.1m² Type F(B) (1 bedroom): 26.42m² Type F(C) (1 bedroom): 38.76 m²
Penthouse (6 bedrooms): 361.32m²
Amenities:
Owners will enjoy a full flight of services that which are thoughtfully curated by Niseko Kyo. From round-the-clock concierge to a ski concierge, down to housekeeping, laundry, stocking and shopping services to name but a few, residents will feel pampered and well-taken care of from the moment they are received at the airport.
24-hour Concierge Service

On-demand Shuttle Service

Dedicated Owner's Storage

Ski Concierge

Housekeeping and Laundry Services

Personal Shopping Services

Spa and Gym
Underground Parking
Dining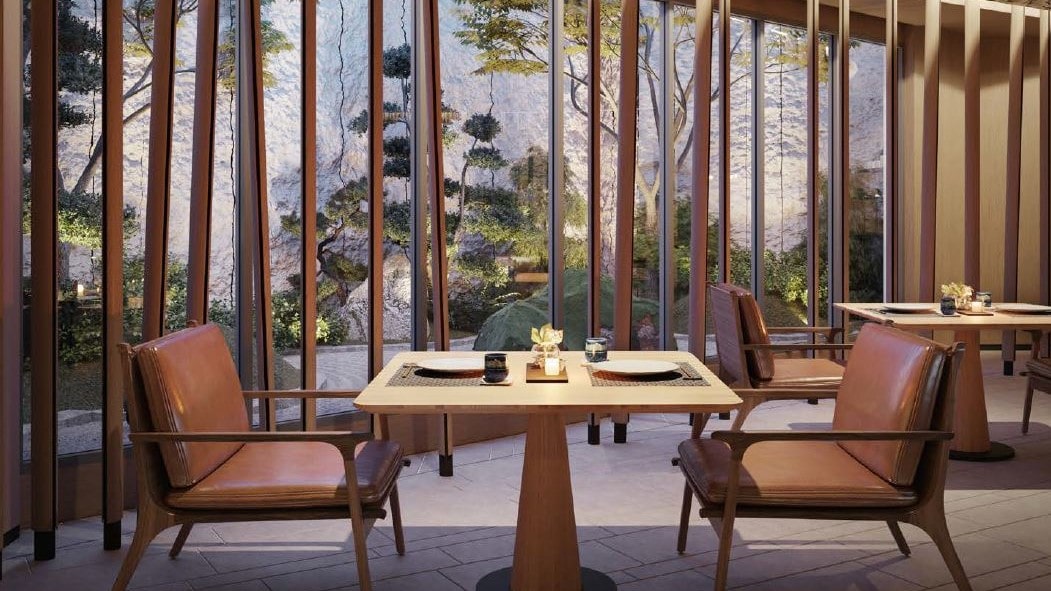 Key Details
Unit Types: 1 bedroom to 5 bedrooms and one 6 bedrooms duel key penthouse
Building Layout: 6 Floors and 22 units, 2+ bedrooms residence have their own private natural onsen
Title: Freehold Title
Prices: Starting from JPY 83,000,000*
Please contact us on 9265 1016 / 3689 2880 for more details
*Starting price is based on the unit with the lowest price provided by the developer. Please contact us for the latest prices and availability.
Date of Publishing: 26 July 2022
Project Name: Niseko Kyo
Property No.: #21324S
Development Permit No.: JAIC2021Y0184A1

Issuing Authority: J Architecture Inspection Centre
This website has been reviewed at the time of writing. If there are any errors or omissions, Japan Hana Real Estate Company Limited ("Japan Hana") and related companies do not assume any responsibility. The statements, information and descriptions contained in this website shall not be regarded or deemed as a statement or display of the actual situation, and may be modified at any time at the request of the developer or relevant authorities and shall not constitute, nor constitute any part of an offer or a contract for sale or purchase and should not be construed as part of the terms and conditions for any sale or purchase.
Any interested party should undertake their own inquiries as to the accuracy of the information. No employee of Japan Hana is authorised to make any representations or warranties in relation to this property or project.
All visual displays, digital images, models, show units, legends, photographs, drawings, displays and design renderings are design concepts (only to be used to show the general concept of the property or project) and should not be regarded as a representation of the actual situation. All planning drawings and design drawings are not to scale, and may be modified or revised according to the instructions of the relevant authorities or at the request of the developer. The building area mentioned in this website is only an approximate measurement, and the actual measurement is subject to the completed measurement result. The saleable area mentioned in this website is obtained through the developer or from sources believed to be credible, but has not been independently verified.
The advertising content for the property is for reference only and does not provide any professional, investment advice or any other advice. Purchasing uncompleted properties situated outside Hong Kong is complicated and contains risk. You should review all relevant information and documents carefully before making a purchase decision. You should seek professional, independent and specific advice on any such investment decision and the types and amounts of taxes or levies that you may be liable to pay as foreign purchasers in relation to the purchase, resale, lease or holding of the properties, if any, in respect of your own case to protect your interests.
Japan Hana acts for both buyers and sellers. Our overseas property sales agents work exclusively in relation to properties outside Hong Kong and are not therefore licensed under the Estate Agents Ordinance to deal with Hong Kong properties. Unless otherwise specified, the agency and transactions are not restricted by the Estate Agents Ordinance for properties in Hong Kong. The Chinese translation is for reference only. If there is any discrepancy with the English version, the English version shall prevail.
#All timings are approximate. Distances are taken from www.google.com for reference only. Some images are computer generated, and so are for illustration purposes only. Exchange rates are for illustration purposes only Property Id : 50576
Price: ¥ 96,000,000
Bedrooms: 1
Year Built: 2023
Other Features
Balcony
Car Park
Elevator
Hot Spring / Onsen
Similar Listings
4

Rooms
1

Bath
ID

38613
267 m2
2

Rooms
1

Bath
ID

38504
99 m2